Shani's AM Skincare Routine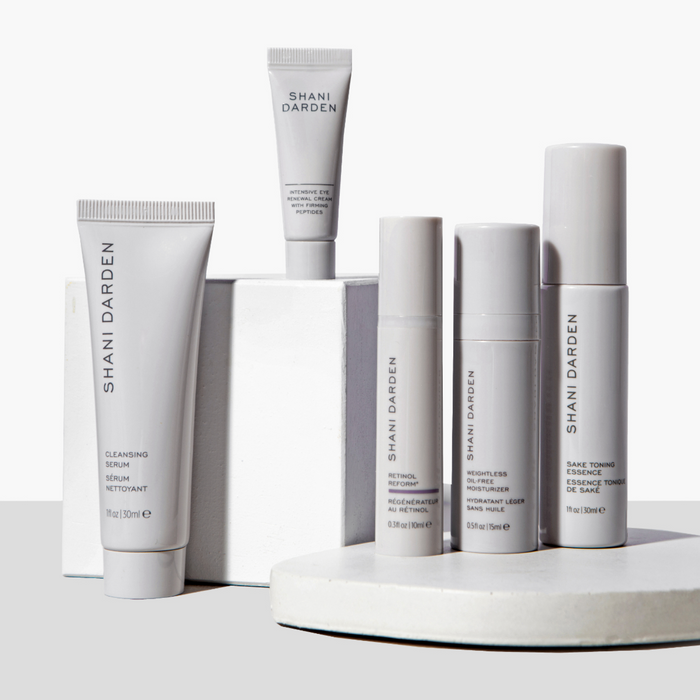 Do you want to start a morning skincare routine but aren't sure where to begin? Celebrity esthetician Shani Darden is here to give you some inspiration by walking you through her morning routine. Shani is known for her tailored skincare consultations and vegan and cruelty-free products. 
"The right morning skincare routine sets you up for glowing skin for the day."
Shani Darden, Celebrity Esthetician
Whether you are new to skincare or just want to change your morning skincare routine, my routine is here to guide you in the best direction for your skin. Read on for my four-step morning routine and suggestions for products that will keep your skin healthy and radiant.
Why Have a Morning Skincare Routine?
Skincare routines often incorporate multiple products in layered steps and can intimidate beginners. Just a simple walk down the skincare aisle of your favorite beauty store can be overwhelming. However, having a skincare routine is imperative if you want to keep your skin healthy and slow down its aging process.
While you might be familiar with the outline of a typical evening routine, having a morning routine is just as important. 
An evening routine is designed to help your skin heal after a day of being exposed to weather, the elements, and excess oils. However, a morning routine is designed to help prepare your skin for those very same stressors. Consider your evening routine as restorative and your morning routine as protective.
What Makes a Morning Skincare Routine Different?
Both routines will have similar steps, but there are a few distinctions between the two. First, you will use different toners. Your evening toners should aim for more reparative effects like clearing irritation and instilling deep hydration. 
Your morning toners should aim to prepare your skin by firming your skin's outer layer and clearing away excess oil. Evening serums will contain primary ingredients like retinol and alpha hydroxy acids, while serums designed for morning use should include ingredients like vitamin C and vitamin E.
Your evening routine may also include products like masks and peels. Some exfoliants are designed for morning use, but most are better for your evening routine. You may also incorporate LED light therapy into your routine. Finally, your morning routine should be the only one that includes sunscreen, as your skin should not need extra protection against the sun at night.
Although your morning and evening routines are different, they should use a few of the same products. This may help you begin to build your morning routine since you can reuse some of the products already in your nighttime routine. 
My Routine
If you're wondering how to begin designing your morning routine, I am here to help. There are a lot of products out there, but I have five that I swear by for my morning routine.. Just follow along with this four-step regimen, and you'll get the hang of it.
Step One: Cleanser
The all-important first step in my routine is a cleanser. Your skin's oil glands are very active while you sleep, which means the first thing you should do each morning is clear away any excess oil or grime that your skin created overnight. You'll also do this to remove any dead skin cells that surfaced. 
For your cleanser to be most effective, you should use warm water and avoid scrubbing. Extreme temperatures can aggravate skin, as can any aggressive scrubbing motions. You should cleanse every morning, evening, and after every time you sweat to keep your skin clean and healthy — especially for acne-prone skin. 
My preferred cleanser is her Cleansing Serum, which is specifically designed to gently cleanse away excess oils and impurities and infuse skin with hydration. This cleanser combines the best parts of a cleanser and a serum into one product that helps your skin stay healthy and young. My Cleansing Serum is also fragrance-free, so it is suitable even for those with sensitive skin.
Step Two: Serums
The next step in my morning skincare routine is serums. Serums with vitamin E or C are especially suited for morning routines since they are packed with antioxidants designed to hydrate your skin. These antioxidants can also help protect your skin from environmental stressors (such as free radicals) that may otherwise damage your skin.
I use two serums to protect her skin throughout the day. The first serum is iS Clinical's Pro Heal Vitamin C Serum. This serum is designed to hydrate skin gently while protecting it. It contains vitamin E and vitamin A to help prevent skin concerns like sun damage and fine lines.
My second go-to serum is iS Clinical's Hydra Cool Serum. This soothing, hydrating serum helps calm redness and irritation so that your skin can start the day off right. It also reinforces the vitamin C serum by providing cool hydration and brightening skin tone. These two serums achieve wonderful effects when used separately, but they set your skin up for maximum success when used together.
Step Three: Eye Cream
After using a serum or two, my next step is to use eye cream. Eye cream is essential for keeping the fragile skin in the eye area moisturized, nourished, and well cared-for. Because the skin in this area is so delicate, it is especially prone to fine lines, wrinkles, and damage. Using your eye cream properly can help ward off these skin concerns and keep your eyes looking fresh and bright. 
My preferred eye cream is my Intensive Renewal Eye Cream, which is even formulated to be used on the eye lid. My formula includes silk tree extract to help lift the eye area and minimize the look of dark circles, peptides to firm and brighten, and niacinamide to help combat fine lines and wrinkles. 
Step Four: Sunscreen
The final and most important step of my morning skincare routine is sunscreen. If you spend any time in the sun, even if it's just a little bit, you should make sure that you put on sunscreen every morning to protect your skin from UV rays. Regular sunscreen use is one of the most powerful things you can do to keep your skin smooth, bright, and young.
For it to be effective, sunscreen needs to be SPF 30 at a minimum. Many foundations and other makeup products that boast SPF protection likely won't cut it. Sunscreen should also be broad-spectrum, protecting you from UVA and UVB light.
I top my skincare routine off with Supergoop!'s Play Everyday Sunscreen Lotion, which is SPF 50 and provides broad-spectrum protection against the sun. This sunscreen also doubles as a final layer of moisturizer and helps lessen signs of aging.
If you have oily skin, you may want to consider a sunscreen that is specifically formulated to be oil-free. Most traditional sunscreens have oily ingredients, which can cause oily skin to flare up and increase oil production, potentially leading to breakouts. To set your skin up for success, find a sunscreen advertised as weightless, oil-free, or made for oily skin.
What Are Some Tips for Beginners?
If you're ready to start putting together your morning routine, there are a few things that you should know before you pick your products. First, you may want to patch test products if you have sensitive skin. Patch testing involves putting a small amount of product on a small patch of skin to see how your skin reacts. If you have sensitive skin, products you should patch test include serums, toners, moisturizers, and masks.
Second, your skincare routine should reflect your skin's specific needs. My routine is a great place to start, but make sure you use products that will support your skin type. If you have oily skin, opt for products that are free from oil and alcohol. If you have dry skin, try oil-based products that combat redness or hyperpigmentation and restore hydration.
And finally, contact your dermatologist if you have any questions about whether or not a product is a good fit for you. Your dermatologist knows your skin type and can easily help guide you in choosing products for a morning routine that best reflects your skin's specific needs.
Final Thoughts
Skincare routines may be intimidating, but one of the best things you can do for your skin is to start implementing a morning routine. My morning routine includes skincare products like a cleanser, two serums, eye cream, and sunscreen to protect my skin during the day. 
My routine can be a great place for skincare beginners to start, but make sure you are adjusting it as needed to fit your skin's needs. 
Sources:
Face Washing 101 | American Academy of Dermatology
What Products Do I Actually Need for a Simple, Everyday Skin Care Routine? | The Cleveland Clinic
Less is More When it Comes to Skincare | UCI Health 
Do You Really Need a Skin Care Routine? | Northwestern Medicine
Skin Care Tips Dermatologists Use | American Academy of Dermatology