What Is My Skin Type? How To Tell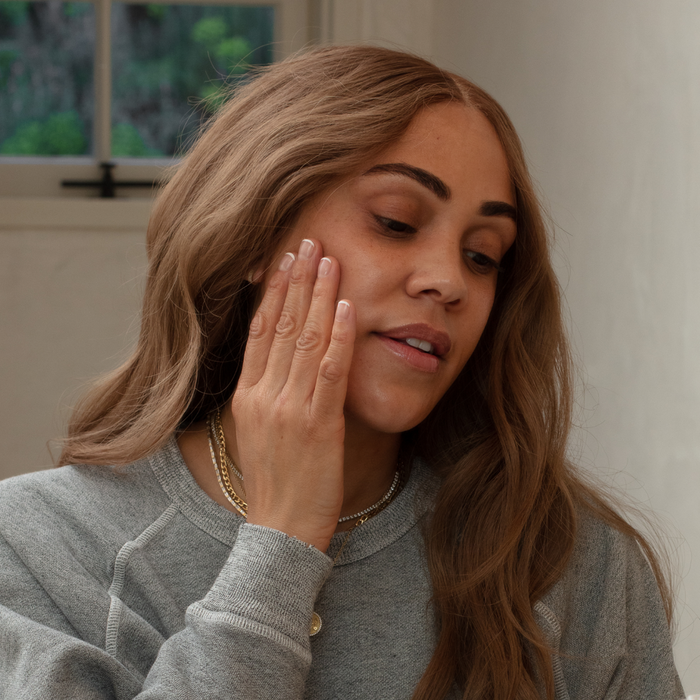 Do you know your skin type? One of the first steps in your skincare journey is determining whether your skin is oily, dry, or normal. You can't choose the skin type you're born with, but you can choose how to treat it. 
"Understanding your skin type is the first step towards crafting the perfect skincare regimen."
Shani Darden, Esthetician
Your skin is saturated with cells that need nourishment, hydration, and skin-specific ingredients. Knowing your skin type ensures you obtain optimal results from your skincare products. Let's run through the four main skin types to determine which one your skin possesses.
What Are the Main Skin Types?
Skin Type 1: Normal Skin 
Normal skin types harbor a balanced, even skin tone. It is not too oily and maintains a balance of sebum (oil) and healthy blood circulation. Normal skin types don't experience excessive dryness either; dullness and breakouts are uncommon with this type of skin.
If you are looking for tighter, firmer skin, reach for my Facial Sculpting Wand. The vibration therapy utilizes sound wave technology to target wrinkles at the source, enhancing blood circulation and increasing oxygen intake within the epidermis. 
Skin Type 2: Oily Skin
Oily skin types produce excess sebum (oil) year-round and may present a shiny appearance. This acne-prone skin type is susceptible to pimples, large pores, and blackheads and benefits from oil-free skincare and exfoliating products. Don't frown upon your oily skin, though. The natural sebum your skin produces may also benefit, working as a natural anti-aging element by retaining elasticity in the epidermis.
Want to help control sebum production while brightening and re-texturizing congested skin? My Lactic Acid Serum works overtime to reveal clear, smooth skin. The formula consists of AHA and PHA acids, hyaluronic acid, green and white tea extracts, and aloe vera. These ingredients can help minimize irritation and provide a glowing, clear complexion.
If blemishes are your concern, try the Control Corrective Sulfur Calming Mask. This therapeutic mask soothes skin, absorbs excess natural oil, and provides a cooling sensation. You can also reduce the appearance of large pores and redness by using this mask as an overnight spot treatment. 
When it comes to supporting and maintaining balanced skin, my Weightless Oil-Free Moisturizer also provides the perfect boost of hydration for normal to oily skin types. My formula features hyaluronic acid and hydrolyzed collagen to plump skin and attract and retain moisture. 
Skin Type 3: Dry Skin
Dry skin types often experience rough, irritated, dull skin patches. Your skin may experience redness, feel tight, or reveal fine lines or flaking post-cleansing. It is vital to keep your skin hydrated with a moisturizer, gentle cleansers, serum, oil, and rich moisturizers to prevent dry, uncomfortable skin. Avoid harsh soaps and dyes that further dry the skin.
I recommend trying my Cleansing Serum for a gentle cleanse. The soothing ingredients eliminate makeup, dirt, and oil while calming inflammation and irritation. 
Follow your cleansing with my Reparative Moisture Emulsion. This daily moisturizer contains pharmaceutical-grade botanicals, antioxidants, and peptides to hydrate and restore the skin. Allow this emulsion to soothe your dry skin while protecting against environmental aggressors. 
Skin Type 4: Combination Skin
Combination skin possesses both oily and dry areas. Most often, combination skin has an oily T-zone — the forehead, nose, and chin — and dry or dehydrated in the cheek area. Breakouts may occur, and large pores and blackheads may also be present in this skin region. 
I recommend my Lactic Acid Serum or Retinol Reform to smooth and refine the texture of your skin. These products work to brighten your skin, leaving it with a healthy, vibrant glow. 
Do I Have Sensitive Skin?
Sensitive skin is delicate and susceptible to inflammation, redness, and irritation. All of the four skin types — normal, oily, dry, and combination — are prone to becoming sensitive. Your skin may be sensitive if you experience adverse reactions to new skincare products, harsh weather, allergens, or spicy foods. 
Sensitive skin often manifests as irritation, redness, itching, or burning. If you have sensitive skin, selecting skincare products designed for your individual skin type can be beneficial. Skin-specific products can help ensure you achieve optimal results from your daily skincare routine without unwanted adverse effects like irritation.
People with sensitive skin types should limit use of products containing acids such as salicylic acid and benzoyl peroxide which may produce irritation.
Gently brighten your dull, sensitive skin while increasing its radiance and balancing skin tone with my Lactic Acid Serum. My non-irritating formula exfoliates, nourishes, and cleanses pores to support a radiant complexion.
Which Factors Affect My Skin?
Several different factors can influence your skin and skin type. If you notice your skin is drier (or oilier) on some days than others, there may be multiple influences at play. 
Daily water intake, nutrition, activity level, sun exposure, and environmental stressors are a few factors that can affect your skin health. Let's dive a little deeper.
Water Intake 
Studies indicate that water affects human skin hydration and biomechanics. What does this mean? The amount of water you drink positively influences your skin's physiology. Those with dry skin can significantly benefit from increased daily water consumption. How much water should you drink per day? The CDC says that water consumption varies by a person's age, race and ethnicity, and socioeconomic status. 
I recommend boosting hydration with a hyaluronic acid serum such as Serum No 1. This hyaluronic acid hydrating serum is patented with Light Water Technology to minimize moisture loss within the skin. Plant stem cells, marine peptides, and hyaluronic acid work to instantly add radiance, plump the skin, and reduce the look of fine lines.
Nutrition
The foods you eat somewhat affect the quality of your skin, as does your overall diet and weight. Heavily processed foods contain excess sugar, fat, and sodium, which can negatively impact your health when consumed in excess. When your overall health is suffering, it can take a toll on your skin health, too.
Experts recommend maintaining a balanced diet that supports a healthy gut and, in turn, a healthy complexion. 
I recommend using the NuFace Trinity Pro microcurrent device at home as a part of a daily skincare regimen. Microcurrent tones, contours, and lifts facial features, providing a non-invasive mini facelift. The device also boosts the skin's cellular energy, encouraging collagen and elastin production and increasing blood flow.
The Sun's Rays
We've all seen commercials advertising sunscreen, but how harmful are the sun's rays? 
The sun's rays damage the DNA in skin cells, causing mutations that lead to premature aging. Sunscreen benefits the skin by protecting it from the sun's damaging UVA (which cause skin aging) and UVB rays (which cause skin burns). 
I recommend using a moisturizer that contains SPF or choosing a hydrating sunscreen formula rather than layering both sunscreen and moisturizer. The Color Corrective Oil-Free Sunscreen SPF 30 is the perfect hydrating sunscreen. Its featherlight formula contains antioxidants and aloe to soothe and protect your sun-drenched skin.
Environmental Stressors
Studies indicate that the top influencing environmental factors that cause skin aging are the sun, air pollution, smoke, nutrition, and some cosmetics. 
Stress directly affects the skin and can contribute to a variety of skin concerns, and chronic stress can even trigger immune responses that have a further negative impact on your complexion. 
I recommend supporting your skin's defenses against environmental stressors with iS Clinical Pro-Heal Serum Advance+. Vitamins C, E, A, and olive leaf extract team up in this powerful yet gentle elixir to brighten and even skin tone.
Sleep
Some experts note that certain skin concerns, and skin irritation in general, may be linked with sleep disturbances. Most adults require seven hours of sleep per night for optimal health, and regularly getting less sleep than you need can manifest in many ways — including unhappy skin.
I recommend my Déesse PRO LED Light Mask to help support overall sleep quality and skin health. The FDA-approved device delivers innovative gold-standard red, blue, and near-infrared wavelength therapy couplings. This dual diode LED mask helps address signs of aging and supports skin health to help smooth, clear, and brighten the skin. 
In addition to addressing epidermal concerns, this clinically proven device can help improve mood, reduce stress, and improve sleep quality.
Follow your LED light treatment with my Retinol Reform anti-aging serum. The gentle, slow-release retinol works to combat the signs of aging and dark spots without causing irritation. It works while you sleep to deliver visibly firmer, more youthful-looking skin. 
To Sum it Up
Learning to address your skin's needs based on your skin type is essential for maintaining healthy skin. It also helps you acquire the most from your skincare products. My team of expert estheticians is here to provide guidance through virtual skin consultations. 
If you're unsure which skin type you possess, schedule a session to receive professional advice, product recommendations, and a credit toward products on www.shanidarden.com. 
Your skin reflects your unique beauty. Support its radiance with my cruelty-free, vegan skincare formulas that support healthier, younger-looking skin. 
Sources:
Dietary water affects human skin hydration and biomechanics | PMC
Get the Facts: Data and Research on Water Consumption | Nutrition | CDC
The Hidden Dangers of Fast and Processed Food | PMC
Gut–Skin Axis: Current Knowledge of the Interrelationship between Microbial Dysbiosis and Skin Conditions | PMC
Environmental Stressors on Skin Aging. Mechanistic Insights | PMC.
Psychological Stress and the Cutaneous Immune Response: Roles of the HPA Axis and the Sympathetic Nervous System in Atopic Dermatitis and Psoriasis | PMC
Sleep impairment in patients with chronic inflammatory skin diseases: A review of mechanisms and management | Journal of the American Academy of Dermatology