What Does Toner Do for Your Skin?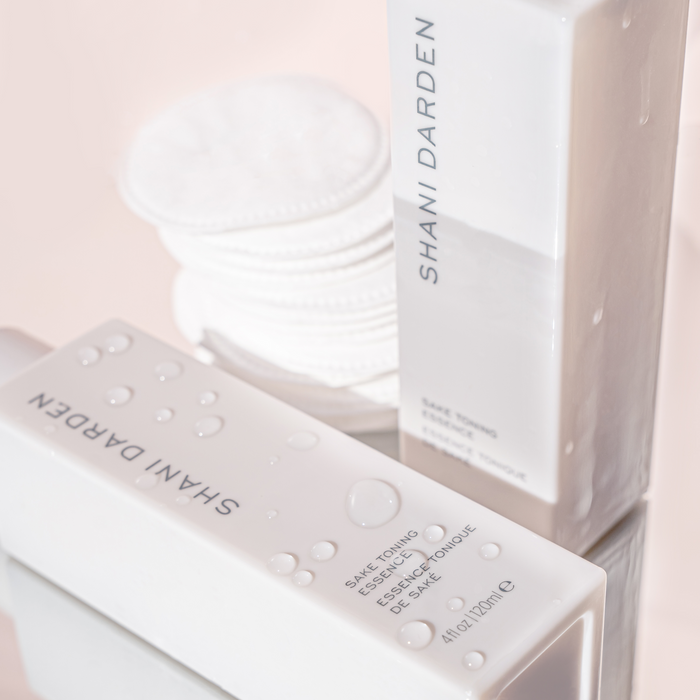 Do you feel like something is missing from your skincare routine? Or, do you feel like your products aren't working as well as they should be?
"The right toner is an essential skincare step for a glowing complexion"
In either case, a toner may be your answer. This product has been around for a while, but with more modern formulations on the rise, its popularity is rising as well. Read on for some more information on the benefits of toner and how to use it to get your best skin yet.
What Is
Skin Toner
?
Toners are water-based products with refreshing and soothing ingredients to help soften the complexion. Some are actually hydrating toners and can help support a sebum production as well as infuse dry skin with moisture.
Although toners mostly feature soothing ingredients, some toners can also target specific skincare concerns. For instance, some toners feature ingredients like alpha hydroxy acids or sulfur that can clarify and support acne-prone skin.
Other toners focus more on antioxidants. Ingredients like chamomile, rose water, niacinamide, and witch hazel are powerful antioxidants. Antioxidants can help brighten the skin and reinforce its defenses against environmental stress.
Who Should Use
Face Toner
?
Some toners are drying and mattefying, and we don't recommend these for dry skin. Dry skin is characterized by uneven skin texture, redness, and visible flakes of skin. Dry skin is often sensitive as well, which means that a mattifying toner may cause more harm than good to this skin type.
However, drying toners work beautifully on oily skin. These products are frequently formulated to reduce the appearance of excess oil and can even help maintain balance in your oil production, depending on the ingredients used. 
If you have combination skin, we recommend exercising great care to only apply toner to the oily areas of your skin. The best way to approach combination skin is to have a separate routine for both the oily and the dry areas of your skin, which means that applying toner may feel a bit like a puzzle.
What Are the Benefits of
Facial Toner?
Toner does more than mattify the skin – in fact, it has a wide range of benefits. Here are some of my favorite functions for toner.
Deeper Cleanse
While cleansers are powerful products that can remove quite a bit of buildup, they may occasionally leave behind traces of dirt, sweat, and oil. When this happens, it doesn't mean that your cleanser is bad – it just means that it needs extra help.
In this situation, a toner is an excellent product to follow up with. Toners can help remove any lingering traces of buildup to help you avoid buildup-related breakouts.
Even Complexion
Some cleansers are harsh and can strip your skin of vital nutrients. Toners can help by infusing your skin with those good ingredients and helping to soften and soothe your skin.
Because toners are soothing, they can also calm down visible signs of irritation like redness. Toners that balance oil production can also help prevent breakouts related to excess sebum.
Toners are also designed to balance your skin's pH levels. Your skin is naturally acidic, and skincare products that don't match your skin's pH range can cause irritation. This is part of how toner's soothing properties work.
Fades Your Pores
I mentioned earlier that some toners are drying. While this isn't ideal for dry skin, the astringent properties of toners are wonderful for oily skin.
Because of these astringent properties, the right toner can actually reduce the appearance of pores. Large pores are often associated with oily skin because sebum can get trapped inside your pores and cause them to appear stretched. With toner, the appearance of your pores can go back to normal.
Better Absorption
Although toners are drying in some ways, such as mattifying oil, they are hydrating in others. Many toners feature hydrating ingredients like hyaluronic acid and glycerin. 
The right toner will infuse your skin with light hydration and can promote better absorption of your skincare products. If you're using anti-aging skincare products, I recommend using a toner in your skincare routine to help you get the most out of those products.
What Is a Sample
Skincare Routine Using Toner?
While toner isn't essential to better-looking skin, it can play a role in helping your complexion get to where you want it. If you're looking to start incorporating toner into your daily skincare routine, we have a few tips to help. Here's a sample skincare routine using toner.
Cleanser
The first step in every skincare routine should always be a cleanser. Cleansers help remove the dirt, grime, impurities, and other buildup from your skin.
Some cleansers also contain exfoliating ingredients like salicylic acid or azelaic acid. This further establishes cleanser as the cornerstone of your skincare regimen since proper exfoliation removes dead skin cells and is required for your products to fully absorb into your skin.
Since I recommend toner for oily skin, my suggested cleanser is my Cleansing Serum. This cleanser works for all skin types and uses sodium hyaluronate (Hyaluronic Acid) to help skin attract and retain moisture, leaving it plumper and smoother..
Toner
After cleansing, you're ready for toner. I recommend using an alcohol-free toner such as my Sake Toning Essence. My five-star toner features sake to soften and brighten the skin, rose canina fruit extract helps to mattify and shrink the appearance of your pores, and niacinamide to even skin tone and balance oil production.
To apply your toner, apply two or three pumps of toner onto a cotton pad, cotton ball, or your hands. Gently pat the toner into your face, starting with your nose and going out. I recommend avoiding harsh rubbing or tugging that can cause skin stress.
Toner works more efficiently when you use it in both your morning and evening skincare routine. However, your skin may need some time to adjust to formulas like my Sake Toning Essence. In this case, I recommend starting with evening use and slowly building up to twice-daily use if needed.
Serum
Once your toner has absorbed, you're ready for a serum. If you have oily skin, I recommend a serum that contains mattifying or clarifying active ingredients such as retinol, niacinamide, salicylic acid, or alpha hydroxy acids like glycolic acid.
These ingredients can help wick away excess oil, unclog your pores, and support a healthy balance of sebum. Serums are powerful products designed to target specific skin concerns, and it's all about finding one that works for you.
When introducing a new serum into your skincare routine, I recommend starting with one night a week and building up slowly, adding in 1 additional night each week. Once your skin has time to adjust to these new ingredients, I recommend building up to nightly use or as often as skin can tolerate.
Sunscreen
Finally, I recommend finishing out your morning beauty routine with daily sunscreen that doubles as a moisturizer to protect your skin from sun damage and dryness. Excess sun exposure can lead to sun damage, which can not only lead to premature signs of aging like fine lines and wrinkles but can also cause other damage as well.
It's important to apply daily protection to help preserve the appearance of healthy skin and your overall wellness. Dermatologists agree that SPF 30 is the lowest you can go while still receiving adequate protection. 
If you have oily skin, I also recommend looking for a non-comedogenic sunscreen labeled as "oil-free" or "for oily skin." 
Final Thoughts
Although toners don't get as much attention in the world of trending media, these products can work wonders for your skin. In fact, the right toner can provide a deeper cleanse, even out your complexion, fade your pores, balance your pH, and help your other skincare products absorb better. 
When incorporating toner into your skincare routine, I recommend placing it after your cleanser and before your serum for radiant results. If you need help putting together a skincare routine, schedule a virtual consultation with one of my skincare experts. We can work with you to build a routine that will help you reach your skincare goals.
Sources:
Why You Should Add Toner to your Skincare Routine | Gundersen Health System 
Cleansers And Their Role in Various Dermatological Disorders | Indian Journal of Dermatology
Natural Skin Surface pH is on Average Below 5, Which is Beneficial For Its Resident Flora | International Journal of Cosmetic Science