Physical vs. Chemical Exfoliation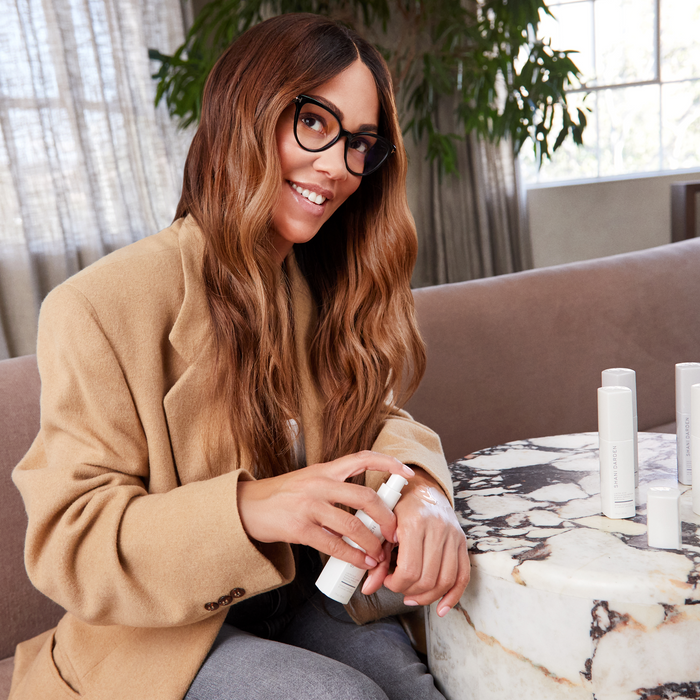 Exfoliation is an important part of your skincare routine and helps your skin feel softer by removing dead cells from the surface of your skin. These dead skin cells act as a barrier that can prevent your skincare products from fully penetrating your skin. These dead skin cells can build up and remain stuck to the surface of your skin, clouding up your complexion and exacerbating the appearance of fine lines and wrinkles.
"When it comes to a clear and glowing complexion, exfoliation is essential!"
Shani Darden, Celebrity Esthetician
There are two ways you can remove dead skin cells: physical exfoliation and chemical exfoliation. In many cases, one is far better than the other. Here's what you should know about the differences between these two methods and how to choose an exfoliant that's right for your skin.
What Is Exfoliation?
Your body sheds around 200,000,000 dead skin cells every single hour. That's thousands of millions of skin cells a day. However, they don't always make their way off of your body. 
Many of those dead skin cells sit on the surface of your skin, waiting to slough off naturally or be physically removed. Exfoliation is the process of removing those dead cells to reveal the healthy, newer skin cells underneath.
How Often Should You Exfoliate?
Although everyone sheds skin cells at a similar rate, everyone's unique skin tolerates exfoliation differently. As a general rule, you should aim to exfoliate between one and two times a week, depending on how it affects your skin. 
People with sensitive skin may find that exfoliating once a week is enough to remove the dead cells from the surface of their skin without causing irritation. However, people with tougher skin may find that they need to exfoliate two to three times a week.
Start by exfoliating once a week and observe how your skin behaves. Keep in mind, a small amount of temporary redness is normal after you exfoliate. 
If your skin tolerates exfoliation well, go ahead and try exfoliating two nights a week. 
What Is Physical Exfoliation? 
Physical exfoliation, also called mechanical exfoliation, is the process of manually removing dead skin cells from the surface of the skin. It involves using abrasive substances like scrubs or abrasive skincare pads to scrub away dead skin cells. Many physical exfoliation products use coarse materials like salt, sugar, ground fruit pits, or nut shells to buff away dead cells from the surface of the skin.
If you've ever had a microdermabrasion treatment, physical exfoliation is a similar experience. They both use grit to break down and slough off the layer of dead skin cell buildup from the surface of the skin.
Physical exfoliation certainly has some potential benefits for your skin, but it can also inadvertently do more harm than good. Ultimately, I don't recommend physical exfoliation, as chemical exfoliation is gentler and easier on your skin.
What Is Chemical Exfoliation?
Chemical exfoliation uses gentle acids to break down dead cells on the surface of the skin. However, they may not all come away at once. Some chemical exfoliants are applied and left on for about 10 minutes before being rinsed away with warm water. 
Other chemical exfoliants are applied and left on overnight. They'll continue to work passively until the next morning when you wash your face. When using these products, the dead cell buildup will separate and come off with a gentle wash. 
You may already be familiar with chemical exfoliation if you have had a chemical peel before. If you've ever had a peel treatment at a spa or the dermatologist's office, you'll find that the process is similar. 
The main difference is that professional-grade chemical peels use higher concentrations of acid to peel away deeper layers of skin. The results are a bit more extreme than at-home chemical exfoliation because the products are stronger than those recommended for at-home use.
Which Is Better: Physical or Chemical Exfoliation?
It might seem like physical exfoliation is a better idea. After all, physical exfoliation involves scrubbing dead skin cells off the surface of your skin, while chemical exfoliation uses chemicals to dissolve the bonds that hold the buildup together. However, things aren't always what they seem.
Gentle acids like lactic acid can remove the layer of dead skin cells while leaving your healthy skin cells underneath completely intact. Meanwhile, physical exfoliants like sugar scrubs can scrape your skin with their coarse particles, creating tiny wounds in the process. Physical exfoliation is far more aggressive and has a greater potential to damage your skin.
Gentle chemical exfoliants are better suited for the delicate skin of your face. It may not matter so much if you use a gritty sugar scrub on the thick, dry skin of your elbows or heels, but it's generally accepted that you shouldn't be grinding abrasive particles into your face.
What Are the Different Types of Chemical Exfoliants?
There are two groups of acids used in chemical exfoliating products, and each group has its own set of benefits. While these acids are used in high concentrations in clinical settings, over-the-counter (OTC) formulas are diluted down to a strength that makes them safe for regular home use. 
AHA (Alpha Hydroxy Acid)
AHA products like lactic acid work to address a wide variety of skincare concerns. AHAs are used to improve the appearance of aesthetic concerns like dark spots, mild scarring, uneven skin tone, and fine lines and wrinkles in addition to exfoliating the skin.
AHA products are an effective chemical exfoliant for many people since they work to achieve many common skincare goals.
BHA (Beta Hydroxy Acid)
BHA products like salicylic acid are commonly formulated for blemish-prone skin. BHAs can help to manage the visible effects of breakouts on the surface of the skin as they dig deep into your pores to dissolve oil and pore-clogging build up.. 
BHAs are commonly incorporated into cleansers because they work with the natural oils produced on the face to support your skin's defenses against bacteria and eliminate dead skin cell buildup. Lathering BHA formulas up can also help make them more effective.
How To Use Chemical Exfoliants
Pick a day to start exfoliating and set yourself up for success. Skincare products need to be used in the proper order to work effectively. Here's how to incorporate a chemical exfoliant into your self-care routine.
Start with a Clean Face
The first step in your skincare routine should be a cleanser. You need to remove the dirt, makeup, grime, and oil of the day before you apply your skincare products. 
While skincare products can help with all kinds of appearance-related concerns, those products can't actually reach your skin if the greasy remnants of your day are acting as a barrier. If you use a toner, follow your cleanser with your toner and then gently blot your face dry before applying your chemical exfoliant.
Exfoliate Your Face
There are two types of chemical exfoliant products. There are exfoliating peels that need to be left on and rinsed off, and there are exfoliating serums that just need a little time to sink in. 
For instance, my Triple Acid Signature Peel takes about 12 minutes from start to finish starting with applying the peel to let Lactic, Glycolic & Mandelic Acids instantly sweep away dead skin cells across multiple layers. Then apply the Mask with Soothing Kaolin and Bentonite Clays to neutralize the peel, deep clean, and refine pores by removing dirt and oil without over drying your skin. Skin is left renewed, resurfaced and radiant.
As a best practice, you shouldn't use exfoliants and retinol products in the same night. They're both highly charged, potent skincare products, and you don't want them to compete with each other or cause irritation to your skin. Only use exfoliating serums when you're taking a night off from retinol. 
If you want to use both an exfoliating serum and retinol, look for a skincare product that is specifically formulated with both ingredients, such as my Retinol Reform. Because my award-winning formula uses encapsulated retinol, you can get the best of both worlds in a single product.
Moisturize Your Face
Exfoliating can leave your face a little vulnerable. To help soothe any sensitivity or redness, finish your routine with a moisturizer. If you have normal or oily skin, choose a gentle, lightweight moisturizer like my Weightless Oil-Free Moisturizer. My paraben-free formula provides hydration without congestion, making it a great product for daily use.
Use Sun Protection
Exfoliating can make your skin more sensitive to the sun, so it's a better idea to exfoliate at night. This way, your skin will have more time to rebound from exfoliation before it comes into contact with direct sunlight. 
You should always wear sun protection of at least SPF 30 when you regularly exfoliate your face. Sunscreen works to keep your skin looking young and healthy and can also help block damaging UVA rays from reaching your skin.
Will Chemical Exfoliants Irritate My Face?
Chemical exfoliants should never burn your face. They shouldn't leave you with persistent redness or a stinging sensation – however, some people experience a slight tingling when they use a chemical exfoliant. 
When using an exfoliating product, your skin may look a little flushed, but this is temporary. The soothing effects of a moisturizer can help to offset any mild tenderness by nourishing the skin and creating an effective barrier.
If your skin doesn't react well to chemical exfoliant products, you shouldn't use them. It's very rare that someone's skin would be unable to tolerate a gentle chemical exfoliant, but it isn't impossible. Everyone is different, so listen to your body.
The Wrap-Up On Exfoliants
In the battle of physical vs. chemical exfoliation products, chemical exfoliants are the clear winner. They're less likely to cause damage to your skin, and they'll leave you with smooth, glowing skin overnight. 
It's best practice to use a chemical exfoliant once a week until you learn how your skin reacts to exfoliating products. Once your skin has gotten used to the new product, you can start exfoliating twice or even three times a week, depending on your unique skin.
Sources:
Cosmetic and Dermatologic Use of Alpha Hydroxy Acids | Journal of the German Society of Dermatology
Exfoliation for Sensitive Skin With Neutralized Salicylic Acid? | International Journal of Cosmetic Science 
How to Safely Exfoliate at Home | American Academy of Dermatology Association
Shedded Skin Cells | UC Santa Barbara