How To Deep Cleanse Your Face: 5 Ways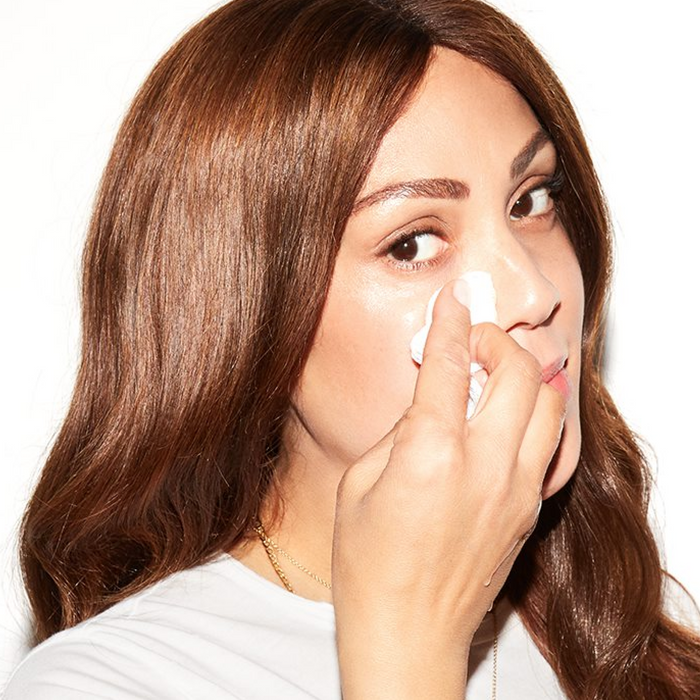 Most of us don't think about it, but our skin is exposed to a lot of stressors every day. Pollution, the sun, and even the climate can affect the way your skin behaves. When the skin begins to look dull, break out, or react differently to your normal skincare routine, it's time for a deep clean. 
"Deep cleansing your skin works to clear away the impurities that daily cleansing misses."

Shani Darden, Esthetician
A professional facial is one of the most effective ways to deep cleanse your skin, stimulate circulation, and restore your skin's natural rhythm. If you can't get in to see your esthetician, or if you're more of a DIY person, I've got five tips to help you get a thorough deep clean at home. 
Why Should You Deep Cleanse Your Face?
Deep cleansing your skin is necessary because, over time, dirt and impurities can build up and clog or congest your pores. Dead skin cells can linger on the surface of your skin for too long, and external stressors can dehydrate the skin and cause irritation. 
Deep cleansing your skin has skin-restorative benefits, too. 
Supports Youthful-Looking Skin
Collagen is a protein found abundantly in the skin, and it keeps your skin looking youthful and helps keep it firm and toned. As you age, you naturally lose collagen each year — a deep cleanse just might help you retain a youthful appearance even as collagen declines. 
Can Help Calm Breakouts
Breakouts can happen at any age — even into your 40s and 50s. Deep cleansing your skin can help clarify your pores better than daily face washing. Using the right products (which I'll recommend below) is essential for cleansing without stripping your skin of natural moisture or interfering with the skin barrier, both of which could potentially make a breakout worse. 
Supports Normal Skin Cell Turnover
Skin cells are created in the deep layers of your skin and are pushed to the surface during their life cycle, where they eventually die. Dead skin cells should naturally slough off the surface of your skin, but sometimes they need a little help. If they hang out on your skin too long, your skin cell turnover can slow down, leading to issues with texture and fine lines. 
New skin is radiant-looking skin, so supporting normal skin cell turnover can help your skin stay healthy. Deep cleansing can help remove dead skin cells, which can also help minimize the look of fine lines and wrinkles. 
Helps Restore Natural Glow
I hear complaints about dull skin from my clients a lot. They're craving restoration of the natural glow their skin once had. Free radicals (from sources like pollution, the sun, and cigarette smoke) can harm the skin's barrier and leave it looking dull and unhealthy. A deep cleanse can help ease the damage, restore the glow, and bring balance to the skin barrier. 
What Are Some Ways To Deep Cleanse Your Skin?
The way you deep clean will depend on your skin type. There are four basic skin types: dry, oily, normal, and combination. The most common skin type is combination, but for the purposes of this tutorial, I'll cover the basic ways to deeply cleanse any skin type. 
1. Cleansers
Any deep clean is going to start with a high-grade cleanser that is designed for your specific skin type. For oily skin, you'll want a cleanser that absorbs excess oil without leaving your skin parched. Normal, dry, and sensitive skin types should use a cleanser that is clarifying but gentle enough to not become irritating. My Cleansing Serum is a gentle yet effective gel cleanser that deeply cleanses without stripping the skin.
It's important that your cleanser works synergistically with your skin. Many cleansers can interfere with your skin's pH balance, wreaking havoc on your skin's microbiome and weakening the skin barrier. A good rule of thumb is to look for certain ingredients while avoiding others: 
Look for: Hyaluronic acid, a natural acid that helps restore skin's natural moisture levels. Opt for plant-based ingredients that gently loosen dirt and oil. 
Avoid: Parabens and sulfates. These can interfere with your skin's microbiome, which can result in everything from skin sensitivity and acne to skin infections.
Cleanse your skin with lukewarm (never hot) water. Using cold water can have a tightening effect on your pores, and the goal is to open the pores so we can clean them. On the other hand, water that is too hot can dry out your skin and cause irritation — lukewarm water is the perfect middle ground.
2. Exfoliating Products
Exfoliating gets a little tricky. Most people associate exfoliating with a product that includes grit or granules that scrub away dead skin. 
While exfoliatingis intended to remove dead skin and dirt from the surface of your skin, some exfoliating products are too harsh and may leave your skin irritated. Some may even lead to oil overproduction if they result in skin that is too dry and parched. 
A better solution is using natural acids to gently lift and exfoliate the skin. I love retinol and lactic acid because they produce real results and are naturally derived. If you've ever tried a retinol product and experienced redness and irritation, I have your solution. 
My Retinol Reform serum contains slow-release retinol that works while you sleep, so you wake up to more clarified skin without irritation. The concentration is clinically proven to provide results, but because it's delivered slowly, it even works for sensitive skin types. 
Lactic acid also works to exfoliate and helps skin remember its natural glow, so it's another product I'd include in any basic skincare routine. My Lactic Acid Serum is perfect for use on nights you aren't using Retinol Reform. 
For treatment products, I recommend starting with once-weekly usage and adding one night each week. For exfoliating products, start off with one to two nights a week — just make sure not to use your exfoliating product on the same night as retinol or other potent actives. 
3. Use Steam
If you have a facial, your esthetician will probably use steam to help relax and open your pores so they can effectively cleanse your skin, get products to penetrate deeply, and eliminate oil and dirt. 
You can replicate the steam treatment at home with a steaming device. If you choose to steam, make sure you remember to moisturize when you are done deep cleansing. Steam can leave your face feeling dry and tight. 
4. Use a Mask
Masks work to draw out impurities that live deep inside your pores. Once you've cleansed and opened your pores, applying a mask that contains kaolin clay, like the Cosmedix Clear Deep Cleansing Mask, is the perfect way to pull out everything else that could be lurking just below the surface of your skin. 
Kaolin clay is the best choice (better than charcoal) for removing impurities because it has a neutral pH that won't interfere with your skin barrier. 
Another good option is bentonite clay, which not only absorbs excess oil and helps rebalance skin's natural moisture levels, but also acts as a soothing agent, helping calm down areas that are irritated or red. 
After using a mask, you don't need to cleanse again with a cleansing agent. Simply remove the mask (along with all the excess oil and dirt) with warm water and pat dry. 
5. LED Light Therapy
One of the best ways I can help restore my clients' skin and reach the deepest layers is by using light therapy. My Déesse PRO LED Light Mask lets you get similar results at home and helps target three of my clients' biggest skin concerns: 
Acne
Fine lines and wrinkles
Pigmentation concerns
By using a combination of three different types of light (red, blue, and near-infrared LED) delivered at strengths clinically proven to be effective, you can reach layers of your skin to help promote collagen production, stimulate cell turnover, and increase the health and clarity of your skin. 
What Are Some Post-Deep-Cleansing Musts?
Once you've deep-cleaned, moisturizing is essential. All skin needs moisture, even if you have an oily skin type. My Weightless Oil-Free Moisturizer is the perfect choice for normal to oily skin, and it works to deliver daily hydration without causing congested pores. 
After a deep cleanse or facial, your skin needs extra hydration to reestablish moisture and protect the skin barrier — so choosing the right moisturizer, and using it consistently, is crucial. 
Wearing SPF is also essential in the morning after a deep cleanse, and the Supergoop Play Everyday Lotion with SPF 50 doubles as both your morning moisturizer and sun protection step. 
Deep Dive Into Clean Skin
Deep cleansing your skin can help awaken your skin, clear away impurities, and bring your complexion back into balance. You generally don't need to deep clean your skin more than once a month for effective results — over-cleansing can strip too much oil and lead to dryness or even irritation. 
As always, you can book a virtual consultation for even more skin tips and professional guidance. 
Sources:
The human skin microbiome | Nature Reviews Microbiology
What Are Parabens, and Why Don't They Belong in Cosmetics? | Environmental Working Group