Chemical Peel Aftercare: 6 Tips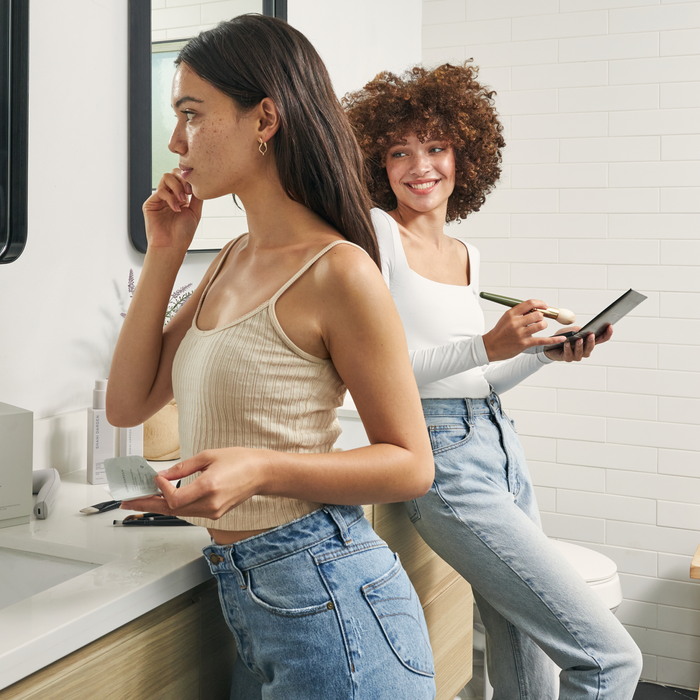 Your day-to-day skincare regimen is so important. It's a great way to balance out any potential skin concerns you have, prevent future breakouts, and get a jump on visible signs of aging — while also building a little self-care into your daily routine. Keeping up with a regimen daily is also crucial because most skincare treatments or products are about the long game rather than instant results.
But as important as your daily routine is, there are additional treatments you may consider adding to your skincare regimen from time to time. Sometimes, you want more immediate results — or maybe you have some stubborn complexion concerns you'd like to address.
"Chemical peels can effectively minimize complexion concerns, and the right aftercare can help you make the most of it."
Shani Darden, Esthetician
Whatever the case, a chemical peel may be exactly what your skin needs! Let's talk about this super helpful treatment and break down what you should do after a chemical peel to ensure you get the desired results.
Why Use a
Chemical Peel
?
Chemical peels are skincare treatments you can seek in addition to your daily routine. They can be used not just on your face but on other sensitive areas like your hands and neck, too. 
If you know the areas of your body where you're most likely to show your age, that information should make you a little excited — because chemicals are fantastic for reducing the appearance of fine lines and wrinkles. So if you're looking to address visible signs of aging, a chemical peel is an ideal option.
Chemical peels are a stronger form of chemical exfoliation, which means they help to break down the bonds between your skin cells so that old, dead skin cells can easily be sloughed away. This can combat not just visible signs of aging but also dullness. It can even help with breakouts — especially if they're severe — by giving your pores the skincare equivalent of a powerwash.
This makes chemical peels equally as effective on hyperpigmentation, whether you're dealing with a hormone-related issue like melasma or acne scars and post-inflammatory hyperpigmentation. 
If you're looking to combat issues with your skin tone or texture, a chemical peel may be for you.
How Strong Are
Chemical Peels
?
Since chemical peels are basically more intense versions of the chemical exfoliant products you may use at home, you might be worried about their strength — especially if you have sensitive skin. Luckily, you can pretty much choose your chemical peel for your individual needs and skin type.
Professional chemical peels come in three strengths: light, medium, and deep. Ultimately, the decision about what's best for your skin should be between you and a board-certified dermatologist or esthetician. In general, if you have sensitive skin or have a more mild concern to confront, you'll err on the lighter side. If you have hyperpigmentation or cystic acne, a deep peel may be in order.
While the stronger types of chemical peels are solely used by dermatologists, lighter strengths can be done at home. My Triple Acid Signature Peel is a perfect example of an at-home chemical peel to try for clearer pores and smoother skin. These peels will be milder than professional treatments but still effective. Be sure to patch test before use.
What Should I Know About
Chemical Peel Aftercare
?
After a chemical peel, it's important to know about aftercare. Chemical peels can, depending on the strength, leave you with peeling, redness, swelling, and other signs of irritation. It can also make your skin extra vulnerable to the elements. If you want to get the best results with the fewest side effects, aftercare is key.
Let's talk about a few tips for chemical peel aftercare.
1. Use a
Gentle Cleanser
Set aside any intense breakout-busting cleansers — before a chemical peel, you want something extremely gentle that won't rob your skin of the moisture it needs to heal properly. 
My Cleansing Serum is the gentle daily cleanser you need to melt away makeup and pore-clogging impurities without stripping your skin of its natural oils. It'll leave your skin silky soft with restorative oat bran and calming olive extract. I recommend a gentle, yet effective cleanser like this for daily use, not just after a peel.
2.
Moisturize
Plenty
The one heavy-duty skincare product you need after a chemical peel is the iS Clinical Reparative Moisture Emulsion. 
This moisturizer is packed with pharmaceutical-grade botanicals to help your skin rejuvenate itself, as well as peptides and antioxidants to smooth, hydrate and help neutralize potentially damaging free radicals that your skin can be especially vulnerable to at this time. 
Be sure to moisturize in the morning and evening after using your gentle cleanser.
3. Protect Your Skin
It's important to wear SPF every day, even if it's cloudy. But after a chemical peel, your skin will have lost some of its layers, leaving you more vulnerable to damaging UVA and UVB rays. 
Be sure to use a high-SPF sunscreen, like Supergoop Play Lotion.
4. Keep It Simple
Even if you're generally a 10-step skin care routine kind of person, you'll want to take it easy while your skin recovers from a chemical peel. Wait until the side effects from your peel subside completely before gradually reintroducing your serums and exfoliants so as not to cause further irritation.

And if you do re-introduce things like AHAs or Retinol to your routine, do so gradually — think of your skin as a blank slate at this time. 
5.
Hydrate
Your glow comes from the inside out! To help keep your skin balanced and moisturized while it recovers, be sure you're hydrating and drinking enough water throughout the day.
6. Factor In Recovery Time
Your doctor or dermatologist will likely advise you here, but just in case — space out your chemical peel treatments if you're getting more than one. While chemical peels can be helpful and ultimately good for your skin, too much of even the best thing can do some real damage to your skin barrier.
But you need to factor in recovery time in other ways, too. For instance, it's a good idea to lay off strenuous workouts post-chemical peel. It's best to steer clear of anything that will make you sweat, including theoretically relaxing activities like the sauna or hot tub. Wait at least forty-eight hours — or as long as your dermatologist recommends.
Excessive sweat can irritate your skin or lead to blistering. It can also cause your skin to peel completely before it's ready, which can actually lead to scarring, so it's important to follow this advice carefully.
In Conclusion
While chemical peels can be super effective on certain skincare concerns like hyperpigmentation and visible signs of aging, they aren't without their drawbacks. 
They can be pretty intense, especially if you have sensitive skin. Understanding proper aftercare is oh-so-important if you want to get all of the glow with no uncomfortable adverse effects.
Sources:
Chemical Peels: Overview | American Academy of Dermatology
Melasma: A Clinical and Epidemiological Review | National Library of Medicine
Postinflammatory
Hyperpigmentation
| National Library of Medicine